👇 New Event On July 30th 👇
---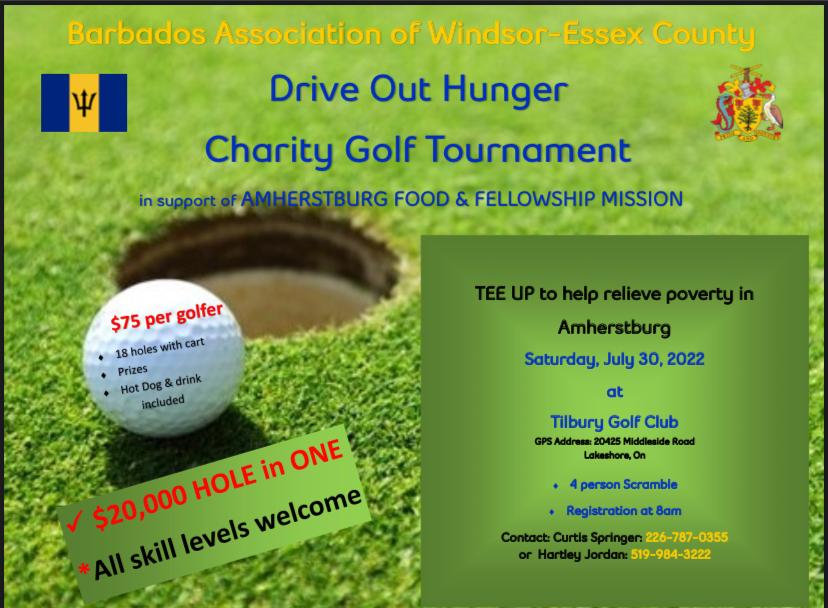 ---
ATTENTION!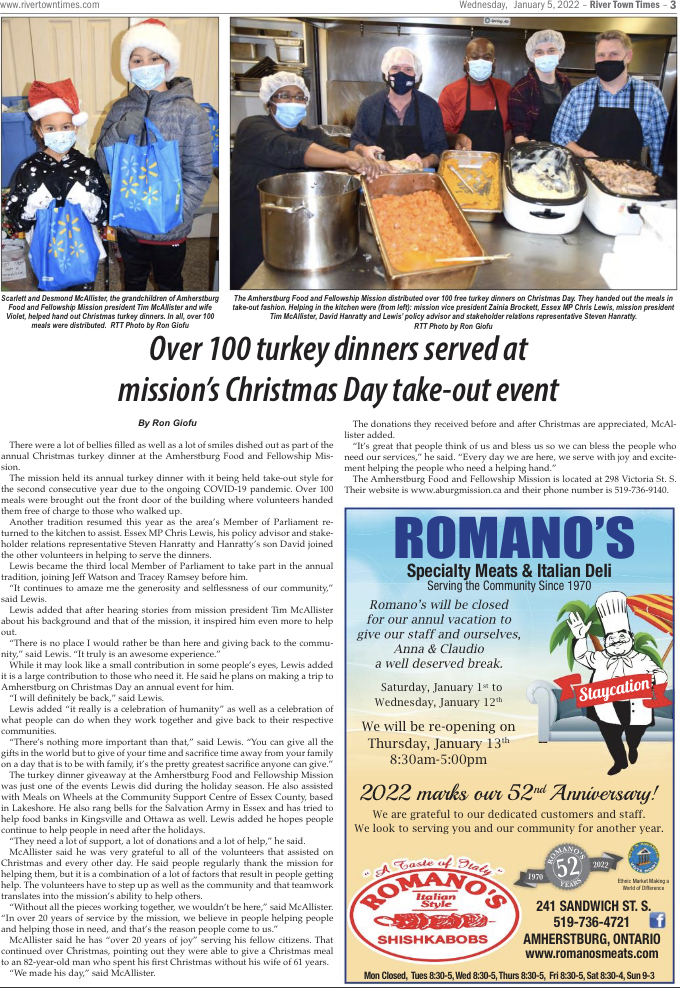 ---
A message of thanks from the Amherstburg Food and Fellowship Mission
As the New Year begins, I look back at an unprecedented 2021 in which new challenges were faced and overcame, we have to count all our blessings. I think of our duty to step up and help families through this pandemic in any way we can. For the year I think of the 14,028 hot meals served, the 671 food baskets handed out, of which 271 were Covid relief baskets. The mission has remained servicing hot meals 5 days a week through 2021. I think about the hard work of the all the volunteers who keep day-to-day operations running smoothly, and the very generous support from our community. My heart is so full of joy at the thought. We are truly blessed to be immersed within a giving community that seeks to support those in need!
This holiday season was particularly different compared to past years at the mission. Our annual Tambala fundraiser, and the annual Christmas Dinner were cancelled due to the pandemic but we were still able to hand out over 100 turkey dinners and gifts to families.
Thanks to the Board of Directors and all the volunteers for their ongoing commitment throughout this challenging year. Thanks to everyone who contributed to the success of our mission, "people helping people".
Due to the contributions and participation of so many generous and wonderful souls, the Amherstburg Food and Fellowship Mission continues to provide much needed services to our community. Local businesses, schools, churches, clubs, unions, and individual donors… You are too numerous to name, but know you are in my thoughts and prayers, and that the help you give makes it possible for us to help others. Lastly we have to thank all who sponsored families over the holidays. We had over 30 families that were sponsored and I can ensure you your sponsorship made an impact in the lives of these families.
Only when we give freely do we truly receive blessings. I trust that such kindness is, in time, returned tenfold. Thank you for helping to keep the Amherstburg Food and Fellowship Mission going. Happy Holidays and a Happy New Year!!
Amherstburg Food and Fellowship Mission
Tim, McAllister, President
---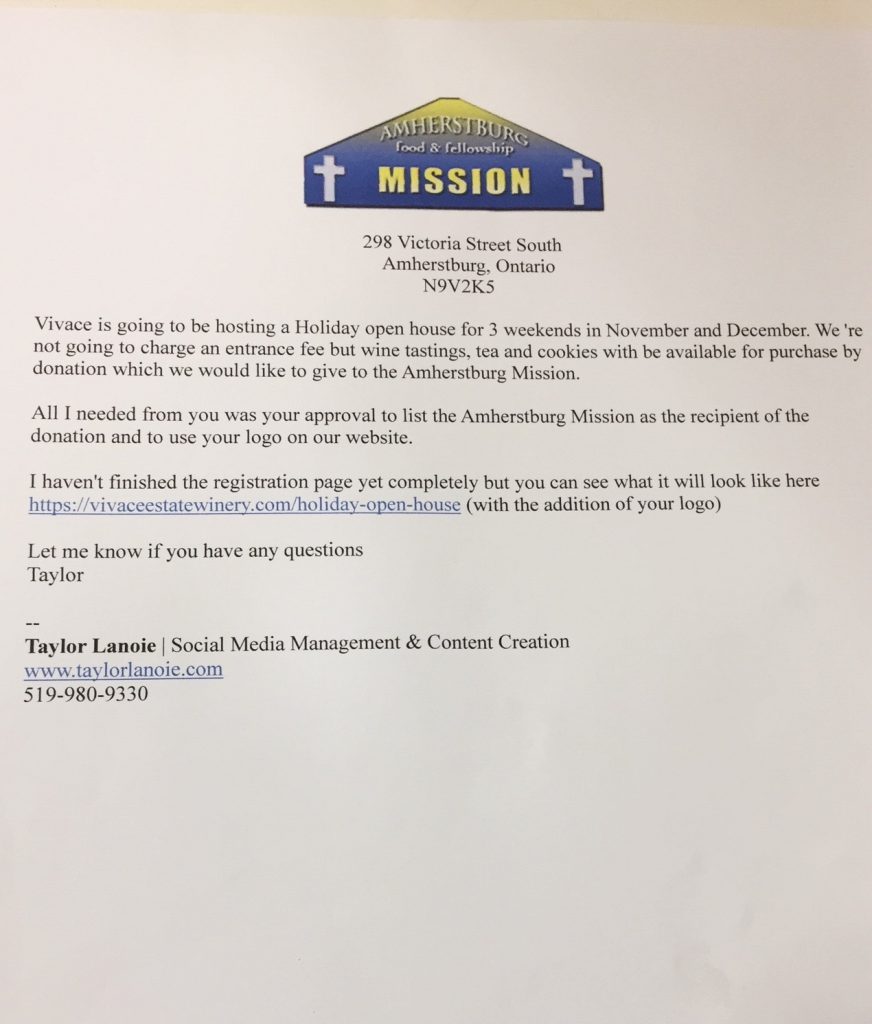 Website: https://vivaceestatewinery.com/holiday-open-house
---
NEW MISSION HOURS DUE TO CORONAVIRUS!!!
This is a challenging time everywhere, Your Safety is our concern here at the mission.
In light of the CORONAVIRUS on Wednesday, March 18, 2020, we will ONLY be serving take out at the door from 12:00 PM – 1:00 PM until further notice……
Food Bank is still operating regular hours and will be served at the door until further notice.
---
The Mission will now be starting to accept some new
CLOTHES and FURNITURE!!!
---
HOW THE MISSION SUPPORTS THE COMMUNITY
---
~ a daily lunch program offering a hot nutritional meal served to all age groups
~ a food bank that is available 3 days a week and in any emergency situation
~ a baby food & supplies program for newborns to 24 months
~ a perishable food table that supplies FREE fresh vegetables, fruit and bread on a daily basis
~ fellowship and emotional support
~ food, fun & fellowship on Easter, Thanksgiving & Christmas
~ "gently used" clothing for all ages
~ a book library
~ 4 computer workstations available for student projects
~ help with resumes available
---
HOW THE COMMUNITY SUPPORTS THE MISSION

---
We are grateful to the many individuals and businesses who support us with:
~ food donations
~ financial donations
~"gently used" clothing for all ages
~ small appliances
~ household articles
~ toys, books & magazines
~ baby furniture and supplies
~ prizes for our fundraising events
~ attending fundraising events that " HELP US ~ HELP OTHERS"
THANKS SO MUCH FOR YOUR CONTINUED SUPPORT
Meet our Board of Directors
---