We are blessed to have support from many different groups and organizations in our community.  Below are some of the events we know about.
Boat Spotters
Boat Spotters held three events in 2018 to raise funds for both the Amherstburg Food & Fellowship Mission and the LaSalle Youth Hang Out Centre.
Pictured below are Wendy Sutton, Michelle Laforge and their husbands presenting a cheque on August 17th for over $1,600. Shirley Hitchcock and Kim Cabanaw accepted and thanked them on behalf of the Mission.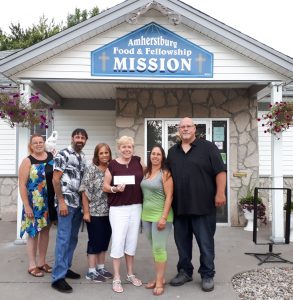 Claire Lovell & Nico Colasanti
These two Amherstburg youths brought a donation of $105 to the Mission on July 23rd. They raised the money by selling their used toys and collecting money in their neighbourhood.
Special thanks from the Board of Directors and volunteers at the Mission.  It is wonderful to see young people understanding the importance of helping others.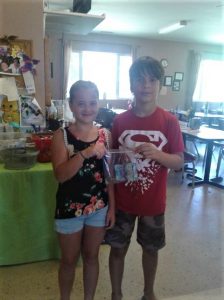 50 New Chairs Arrive – THANK YOU!
Thanks to the generous community support our first lot of 50 new chairs were delivered to the Mission.  They were quickly unpacked and put into immediate use with the help of volunteers and several board members.